Casual Chic
For a casual yet chic look, consider pairing a round bag with a relaxed outfit like jeans and a simple blouse or T-shirt. A medium-sized, crossbody round bag can complement this style beautifully. Opt for neutral colors like tan or black for versatility, or choose a bright, eye-catching shade for a pop of color.
Bohemian Vibes
Round bags can effortlessly enhance a bohemian or free-spirited look. Think flowing maxi dresses, floral prints, and wide-brimmed hats. A round bag with tassels or embroidery can add to the boho aesthetic. Go for a round straw bag for the perfect beachy, bohemian touch.
Office Elegance
Yes, round bags can work in professional settings too! Choose a structured and sophisticated round bag in a solid color like black, navy, or deep brown. Pair it with tailored pants, a crisp white button-down shirt, and pumps. The round shape adds a unique twist to your corporate attire.
Night Out Glam
A round clutch or small round bag with metallic accents can elevate your outfit when heading for a night out. Opt for one with a chain strap for easy carrying. Pair it with your favorite little black dress or a chic jumpsuit, and don't forget some statement jewelry to complete the look.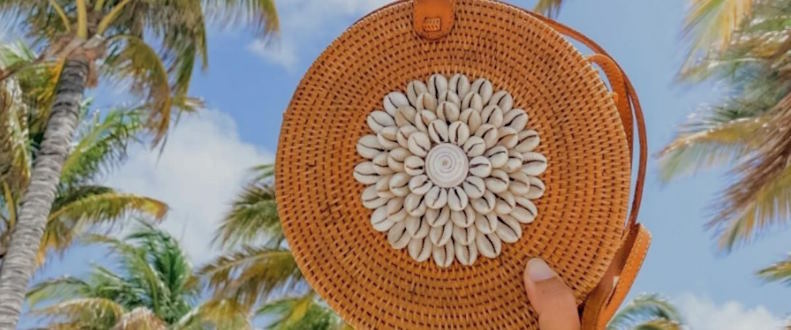 Casual Day Out
Round bags are perfect for running errands or enjoying a casual day with friends. Pair a small or medium-sized round bag with a casual dress, denim jacket, and comfortable sneakers or sandals. This combination strikes a balance between style and comfort.
Resort and Vacation
Round bags are a fantastic choice for resort wear and vacations. A woven straw or rattan round bag complements sundresses, swimwear, and beach cover-ups. It adds a touch of vacation chic to your look.
Statement Piece
If you want your round bag to be the star of your outfit, choose one with bold colors, unique textures, or intricate designs. Keep the rest of your outfit simple and understated to let the bag shine.
Seasonal Considerations
Pay attention to the seasons when choosing your round bag. Lighter materials like straw and rattan are perfect for spring and summer, while leather or suede round bags work well for fall and winter.