Neglecting Layering
Mistake
Wearing a single heavy sweater or coat without layering.
Why it's a problem: A single thick layer might seem warm, but layering is more effective in trapping heat and regulating body temperature. Neglecting this can leave you either too hot or too cold.
Solution
Layering allows you to add or remove clothing as needed. Start with a thermal or moisture-wicking base layer, add an insulating layer like a sweater, and finish with a waterproof and windproof outer layer like a winter coat.
Overlooking Accessories
Mistake
Going out without essential winter accessories.
Why it's a problem: Accessories like hats, scarves, gloves, and earmuffs protect your extremities from the cold. Neglecting them can lead to discomfort and even frostbite.
Solution
Always have a set of winter accessories ready. Choose moisture-wicking materials for gloves, and ensure your hat covers your ears. A good scarf can seal gaps around your neck and shoulders.
Not Wearing Warm Socks
Mistake
Opting for fashion over function with thin or non-insulated socks.
Why it's a problem
Cold feet can be incredibly uncomfortable and affect your overall body temperature.
Solution
Wear thermal or woolen socks to keep your feet warm and dry. If you want to wear fashionable boots, consider using heated insoles for added warmth.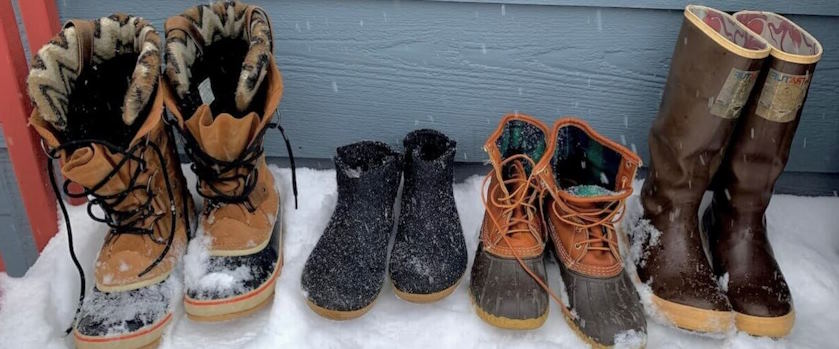 Improper Footwear
Mistake
Wearing shoes that aren't insulated or waterproof.
Why it's a problem
Cold and wet feet are a recipe for misery in winter. Regular sneakers or shoes with little insulation can leave your feet freezing.
Solution
Invest in winter-appropriate footwear. Look for insulated, waterproof boots, and good traction for slippery surfaces.
Ignoring Material Matters
Mistake
Wearing clothing made from materials that don't retain warmth.
Why it's a problem
Fabrics like cotton can trap moisture, leaving you feeling cold and damp. They also lose insulation properties when wet.
Solution
Choose winter-appropriate materials like wool, fleece, down, or synthetic insulators. These fabrics retain heat even when damp and are better suited for winter.
Not Paying Attention to Fit
Mistake
Wearing oversized or overly tight clothing.
Why it's a problem
Ill-fitting clothes allow cold air to seep or restrict movement and blood circulation.
Solution
Ensure your winter clothes fit well, allowing for layering without being too tight or loose.